Many people are under the impression that nonfiction is boring, dry, dull. But some authors are able to bring life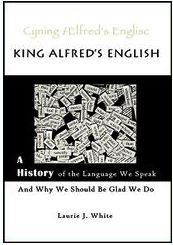 to their subjects, and captivate the reader. Laurie J. White has accomplished that with King Alfred's English- A History of the Language We Speak and Why We Should Be Glad We Do.
Not only does the author provide us with a fun and interesting look at the roots and branches of the English language, but she has supplied the reader or student with additional resources  for each chapter, such as her sources, links to articles, archived footage, audio files, videos, and even movie recommendations. For the teacher there are worksheets and tests for each chapter as well. This book could quite handily be used to fulfill 1/2 credit of history, or a 1/4 credit In History + 1/4 credit in English. That's some full service authoring!
This book covers pre-English Britain under Roman rule to our era of modern English. The history buff will love learning how military invasions had a significant impact on language development, the literary-minded will enjoy the story of how our vocabulary, grammar structure, and syntax took shape over time. The influence of the Reformation and men such as William Tyndale and John Wycliffe through the publishing of the Scriptures for the common people is also explored.
Laurie White's enthusiasm for her subject is obvious, and that is the attitude we want to convey to our kids- learning is fun, it is fascinating, it is rooted in real life, real people, and real events. We are affected everyday by people and places and times that reach far into the past. Resources like King Alfred's English help pave the way for parents who want their children to find learning a delight and a pleasure and follow the many paths of knowledge that with God's guidance lead us to wisdom.
This book is a 170-page softcover that retails for $16.95, and is available on Kindle for $5.95. However, If you do a search or check out the list of links the author has provided at her blog The Shorter Word, you are quite likely to find a great deal on this book. If you teach a co-op, you can order multiple copies at a discount from this page.
Laurie's blog, The Shorter Word, has many more links and resources that any parent will enjoy sharing with their children.
Want to know what the rest of The Schoolhouse Review Crew 
thought about King Alfred's English? Click on the banner below.