Voice lessons are not something that many homeschool parents consider to be a necessity, but learning good voice control skills is beneficial for more than just singing. A child doesn't need to have their sights set on American Idol to find Vocal Coach Singer useful. Students who are involved in public speaking and debate can learn and practice posture, breath control, technique, tone, and diction with this course.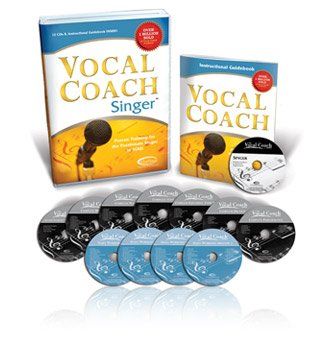 Vocal Coach Singer is a voice training tool created by Chris and Carol Beatty, who are musically gifted and have applied their years of experience in teaching and training for personal use, and for homeschoolers. There are seven (7) training CDs that contain instructions for using the program, breathing exercises, warm-ups for differing vocal ranges, how to expand your range, use proper diction, and giving an enjoyable, meaningful performance. Follow these lessons up with four (4) workout CDs for high, medium, and low vocal ranges. A printed guidebook also offers a full set of instructions, as well as a CD with printable tracking lists and a personal singing journal. You can even fill out the song evaluation form to critique your song choices and improve your singing skills.
To hire a vocal coach and complete a training program as comprehensive as Vocal Coach Singer would cost thousands. Purchased as physical CDs, Vocal Coach Singer is $119.99, or as MP3s that you can download the program for $99.99. I received the MP3 downloads, which are great for those with mobile devices. Just download and 'unzip' each file, and extract to the appropriate folder. Check your computer for which media program is the default. I used Windows Media Player to play these files.
Vocal Coach Singer is geared for older students and adults, but my 11-year old boy understood the instructions and could follow the directions. I would not, however, skip over programs created for younger kids and go straight to Vocal Coach Singer. It is challenging when it comes to implementation and practice. My kids are accustomed to working together, and the youngest is often included in studies that are beyond his pay grade. Our school dynamic enabled us to use this as a family.
The audio files are short, and this made using  Vocal Coach Singer flexible for us. We could do as little or as much as time would allow for internalizing and practicing the concepts presented and exercises that were explained. Some lessons could be as short as 15 minutes, while others would stretch to 45 minutes.
The Beatty's teaching philosophy is:
Good voice technique based on the knowledge that the voice is a physical, mechanical and acoustical instrument and that good foundations will equip you to sing any style you can honestly relate to.
I learned so many things from the lessons we used. You wouldn't think that a voice lesson program would start with calisthenics, but if you do the posture and position exercises correctly, you can actually expect to have some sore muscles! This serves to show us how we have adopted some very bad posture habits that can actually affect the way we breath and speak. We can cause damage to our vocal cords by continuing with poor posture, breathing, and diction. The principles of "practice makes permanent" and "muscles have memory" are taught and repeated with the goal of replacing bad habits with good ones.
We also don't realize how much our voice communicates who we are and how we feel. What we hear of our own voice is quite different than what others hear, and what others hear is affected by everything from distance to room acoustics. The Beatty's teach how to allow your voice to vibrate freely inside your head and face, and produce many different sounds, fully realizing the amazing abilities of the human voice.
This program is SO much more than do-re-mi-fa-sol-la-ti-do. In the lesson 'More Vibrations', the kids touch their throats while making different sounds to learn how to use tension and relaxation to change their vocal tone. Of course, the kids will spend some time cracking each other up singing "wee-wee-wee-wee" and "mini-mini-mini-mini-min", but we are all about having fun while learning, so it's all good.
I was very interested in learning about vibrato. Let's be honest- some vibrato is very uncomfortable to the hearer. I had no idea what to tell my daughter about proper vibrato, and I didn't want her to 'force' something fake or imitate a technique closer to a yodel than vibrato. Chris teaches that vibrato is natural and should be allowed to flow from a relaxed posture. He demonstrates both a natural and appropriate vibrato, and gives some examples of what NOT to do. Yeesh.
Vocal Coach Singer is not promising to make anyone a 'star', but anyone can improve their tone, diction, and range by using the techniques and exercises in these lessons. Who knows what natural gifts could be discovered simply by learning to use one's own vocal instrument properly!
My daughter loves to sing, and is very excited to continue with Vocal Coach Singer. Even though the boys aren't big with the singing, the opportunity to learn so much about their own voices is attractive to them as well. I am also going to work with Vocal Coach Singer to improve my posture and voice for public speaking.
Vocal Coach Singer is incredibly comprehensive – I hope the glimpse I've given helps you realize the full potential of this program. Be sure to scope out their free resources too.
Want to know what the rest of The Schoolhouse Review Crew
thought about Vocal Coach?
Click on the banner below.